Miitomo uses Miis to communicate with other users, and it will work with your new Nintendo Account.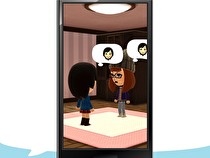 Nintendo's first mobile game, called Miitomo, will launch this fiscal year, as opposed to the calendar year.
Set to debut worldwide in March 2016 alongside the company's new loyalty program called My Nintendo, Miitomo is a free-to-start mobile game with optional add-ons. The title focuses on communications between Miis, and is designed to "reveal a side of your friends you never knew," while encouraging players to share information about themselves. Some of the other smartphone titles promised by the end of the next fiscal year will be paid games.
My Nintendo is the new DeNA-powered loyalty program that will cross PC, smartphones, 3DS, Wii U, and NX systems. Users can use their preexisting Nintendo Network ID to create their new Nintendo Account. The new service will feature a point system that can be used for discounts, digital content, and other goods. My Nintendo will also use an unspecified cloud-based solution would be used for data transfer between devices.
At the start of the presentation, CEO Tatsumi Kimishima also announced that there would be unannounced 3DS and Wii U titles released this holiday season, but did not provide specific titles or release dates..