It turns out it's actually a butt; our mistake.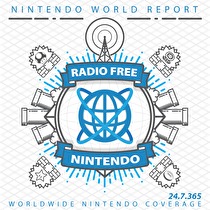 Subscribe via iTunes (Please rate and review, too!)
Jon continues his sojourns, so Greg, Gui, and James welcome Karen on the first half of the show to talk about Yoshi's Woolly World. Good news: you can still be a monster to people you care about! Guillaume turns New Business towards The Legend of Legacy. He has approving feelings of affirmation for the FuRyu 3DS JRPG. Greg and James both played the demo version of Fatal Frame: Maiden of the Black Water and turn the conversation from gameplay to the unsettling balance of portraying the impact of psychological issues with "IT'S A GHOST" plot devices. Greg wraps up New Business with some thoughts on the updated Super Mario Maker, now with checkpoints and creepy tall Mario and Yoshi.
After yet another solo Now Playing, it's the return of a proper Listener Mail segment. James, Gui, and Greg tackle tough questions about the mobile NX as the home for "Vita-style" games, marketing mobile titles made by a company worried competitors will "steal [their] ideas," getting banned from Miiverse for drawing testicular-shaped Yo-Kai, Nintendo embracing streaming gameplay, and elements the crew would like to see in the upcoming Zelda game. Send your questions about scatologically-shaped creatures to our mailbag.
It's time again for the NWR Telethon to Support Child's Play. Details will be posted soon, but don't make plans for December 5. We have a tentative schedule that is full of great content.
This episode was edited by Guillaume Veillette. The "Men of Leisure" theme song was produced exclusively for Radio Free Nintendo by Perry Burkum. Hear more at Bluffs Custom Music.
This episode's ending music is the "Evergreen" from Terranigma. All rights reserved by Square Enix. It was recommended by Dingens from the NeoGAF Forums.