Yo-kai, that's why...or something...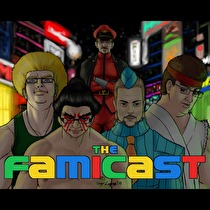 Subscribe via iTunes (Please rate and review, too!)
*note* This episode was recorded 24 hours before the latest Nintendo Direct was announced. Please understand and look forward to some Direct discussion on the next episode!
Proton packs strapped to their backs, the entire Famicrew is back to bust some yokai and talk about the latest rumblings from Japan!
The show kicks off with New Business covering a variety of topics. Lots of different games including the likes of Shovel Knight, Shantae: Risky's Revenge, Mario Maker, Splatoon and more. Ty even tries his hand at level creation and oddly enough shows interest in Disney Infinity. Tune in to find out why!
Next, the guys have a feature discussion all about Nintendo's next platform, the NX. The crew goes over what we know about the system so far (not a whole lot), potential BS, and what we expect out of the system.
After going through some news and charts, JC kick off a very special segment all about Yo-kai Watch! Incidentally, there are loads of Life in Japan-like things that come out of this (you can learn the Japanese word for fart, for example). Be sure to listen to learn everything there is to know (maybe) about yokai and if things in this Western release are handled responsibly.
Be sure to leave your comments in the thread below! And feel free to follow us on twitter (@thefamicast) or to shoot us an email (famicast@nintendoworldreport.com). We want to hear from YOU! Famicast a go-go, baby!
This podcast was edited by Danny Bivens.
Music for this episode of The Famicast is used with permission from 8 Bit Weapon. You can purchase their music and shirts from their website 8bitweapon.com
Additional music for this episode of The Famicast is copyrighted to Nintendo, and is included under fair use protection.
The artwork for the show was designed by Tony Losoya, follow him on Twitter @Tony_Losoya