Covers both of the old Nintendo loyalty programs.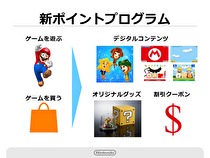 Slides from today's Nintendo shareholder's meeting have revealed the DeNA-powered loyalty program will be known as "My Nintendo".
The program will include benefits for playing games on both Nintendo systems and with mobile apps such as Miitomo, which the service will launch alongside in March. The playing and purchase of titles will earn points that can be cashed in for downloadable rewards which may include game DLC, physical rewards (the slide uses the 2010 Club Nintendo Platinum reward statue as an example) or credit in a similar fashion to the retired Deluxe Digital Program.
The Nintendo Account can be up-ported from an existing Nintendo Network ID, but new users will be able to use social media accounts like Twitter or with a Gmail account. Nintendo Account will also include save uploads and friends list management across platforms