Will soon be as valuable as gold.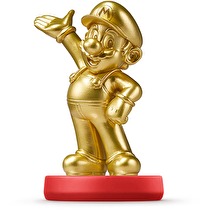 The Super Mario Amiibo Gold Edition will be exclusively available at 3,000 Walmart locations in the U.S. on March 20.
The special Gold Edition Mario Amiibo will function exactly the same as the Super Smash Bros. series and Super Mario series Mario Amiibo figures.
Walmart's website had the Gold Edition Super Mario Amiibo up for pre-order multiple times today, but it sold out quickly on every occasion it was available.