Luigi joins the S.H. Figuarts line, and some adorable Pokémon arcade prizes double the trouble.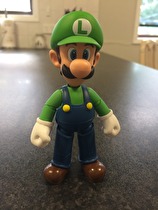 With all the craziness and hype surrounding Amiibo scarcity, rumors of out of production figurines and retail exclusives, it's easy to forget that there is a wealth of other officially licensed merchandise out there. There's already been a steady stream of new Nintendo-licensed stuff to hit the store shelves in Japan and beyond so far this year. You can't plonk these things on your GamePad for bonus game content, but they are still cool.
My latest package of import goods has arrived from Japan; time for a long overdue Mariobilia feature! To the counter top!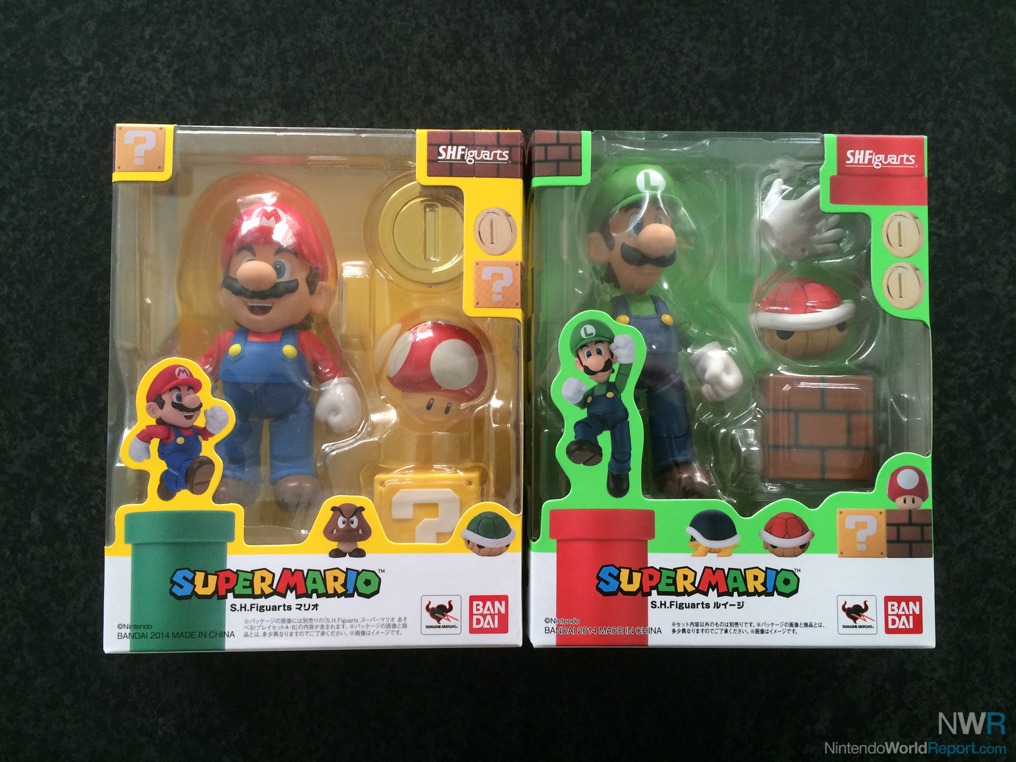 Brothers united at last!
First up, Bandai and Tamashii Nations have continued their Mario line in the S.H. Figuarts series, with Luigi and Play Set C. I wrote about the Mario and earlier Play Sets in a previous Mariobilia, and much of the same rings true with Mario's younger brother.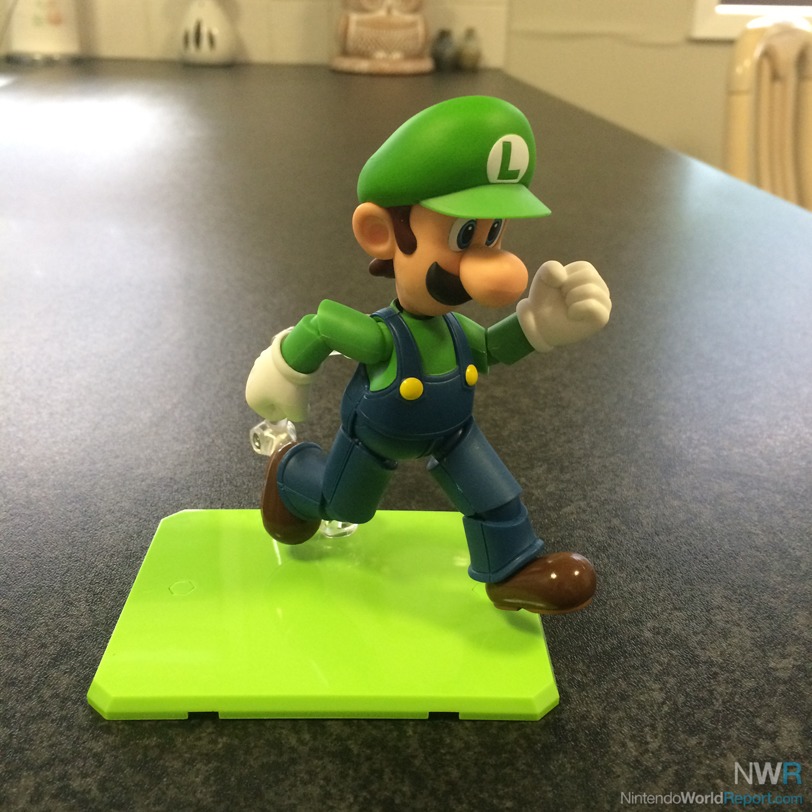 Time for some old fashioned adventuring!
Luigi stands a mite taller than Mario, and has a thinner frame to match the game's art style. The source material was matched to a T. Luigi's overalls are a darker hue of blue than Mario's like in the games.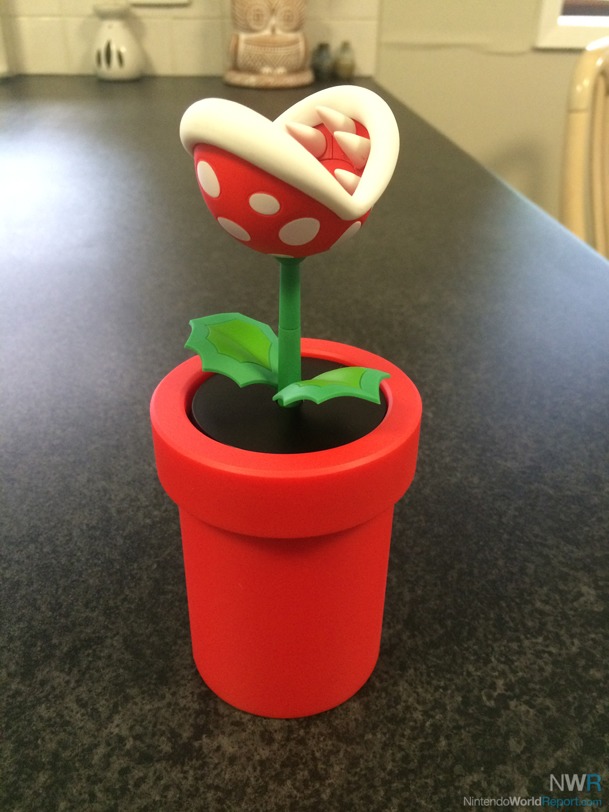 You had to buy the first two Play Sets to get two important pieces for Mario – alternate hands that allowed him to hold a Koopa Shell item, and a little peg-insert panel for his back to let you position him in mid-air jumping poses. Luigi comes with these alternate pieces included, so if you already have the earlier toys you're good to go. He's also packaged with another Brick Block and a Red Shell item, seemingly to tease that there has yet to be a Koopa Troopa figurine released in this series.
Play Set C appears to draw inspiration from the underground levels in the Super Mario Bros. series, featuring a red variation of the Warp Pipe seen in Play Set B, a Coin, a Buzzy Beetle, and a Piranha Plant. The Pipe has the same interchangeable top like the green version, allowing you to place Mario and Luigi at different heights as if they're entering or exiting the pipe.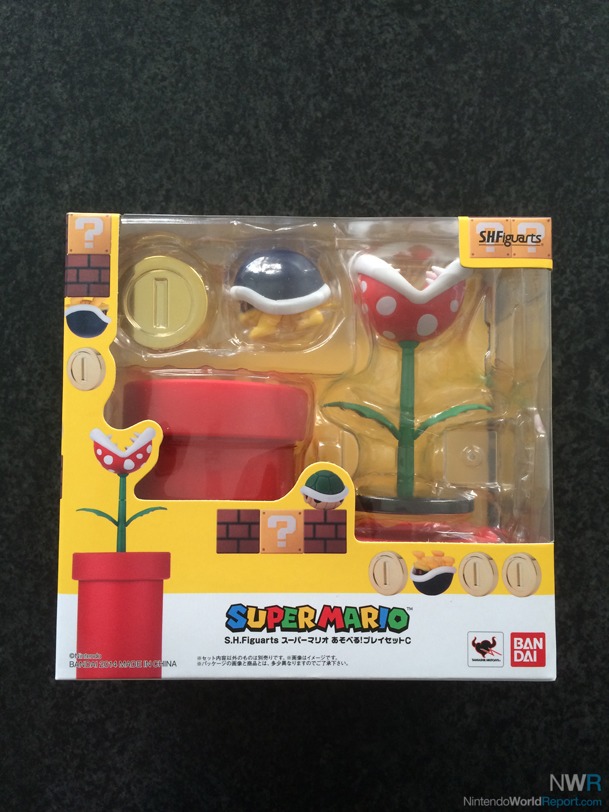 Piranhas and Beetles.
The Piranha Plant is comprised of several parts that can be broken apart and rearranged to allow you to position it at various heights as it emerges from the pipe. The leaves can also be removed if necessary. Like the Goombas seen in the earlier sets, the Buzzy Beetle is for cosmetic effect only and has no moveable parts. Compared to the Goomba, its scale is a little on the small size, but it still works well as a set piece for your growing Mario diorama.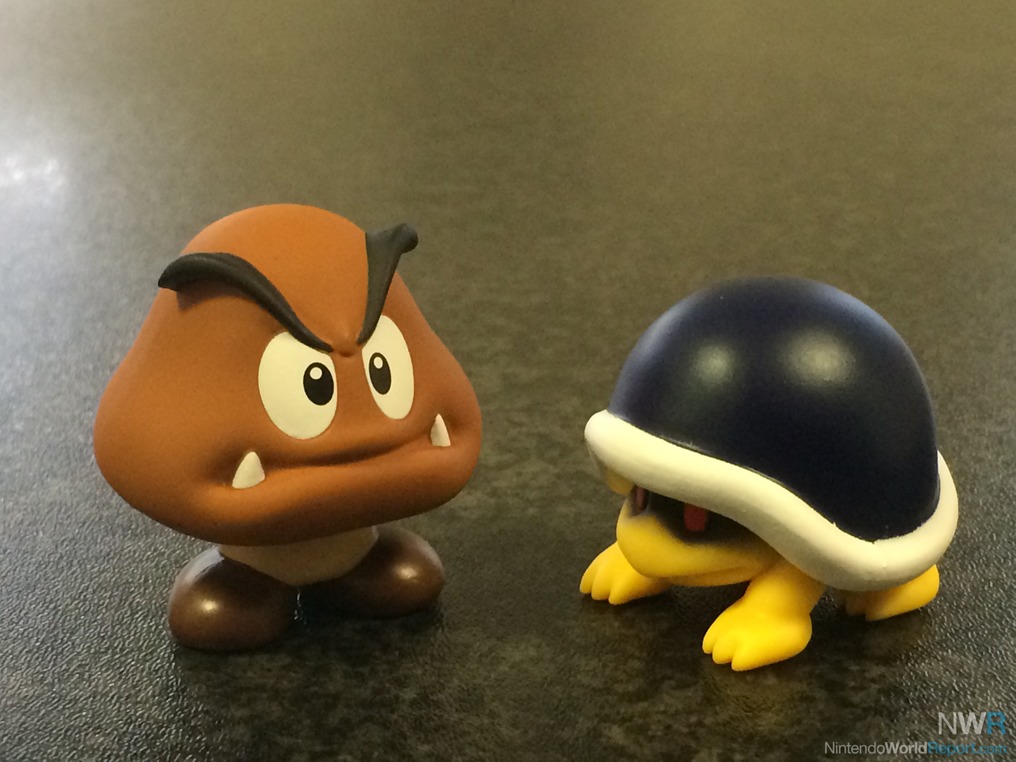 I wonder what they're talking about?
It's unclear how much further Bandai plans to take this series, but it still has tons of potential. A Yoshi figure is coming around mid-year that has saddle attachments to allow Mario and Luigi to ride on his back, and looks to have an extended tongue piece to allow for some neat action poses. I'd love to see some more enemies appear like Koopas, Bullet Bills, Lakitu, and of course we need Bowser and Peach figures to round out the cast.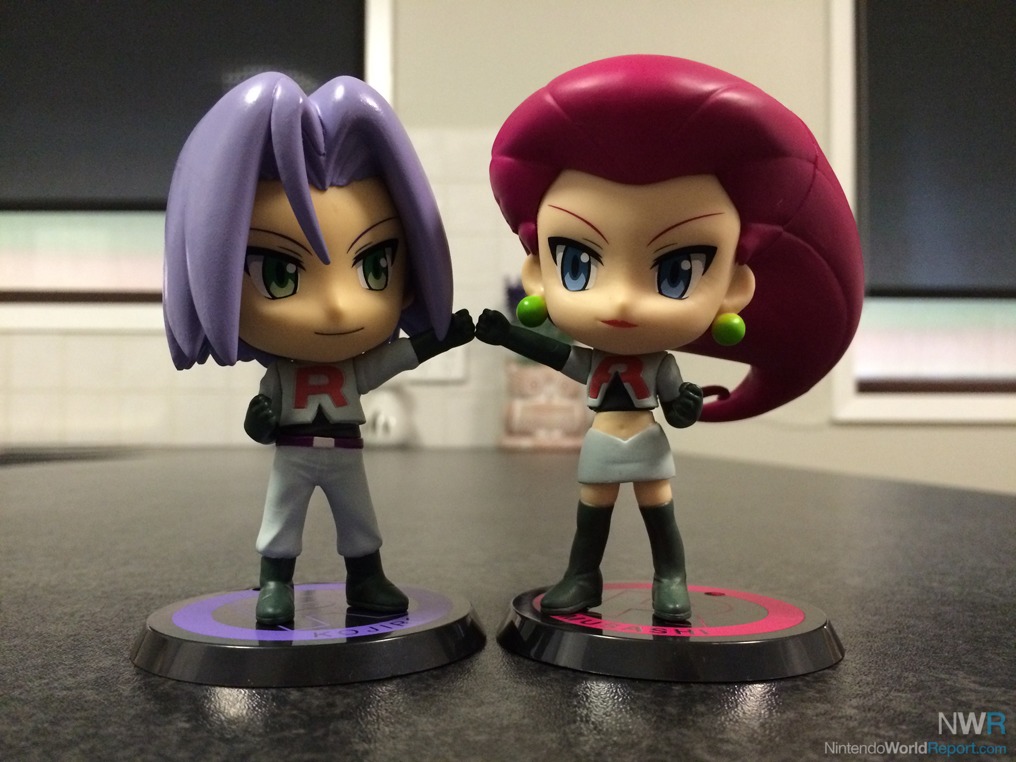 Prepare for trouble!
My other collectibles to show for today are these adorable pieces from a Banpresto line of UFO Catcher prizes.
Jessie and James of Team Rocket are two of my favorite characters ever, yet merchandise featuring the anime exclusive duo is few and far between. It's no wonder that when I found out that these figurines had come out, back in 2013, I had to snap them up.
Musashi and Kojiro, otherwise known as Jessie and James, are from a series called Kyun Chara, which roughly translates as "cute character". Meowth, romanised in Japanese as Nayrth (one spelling that has always sat a little awkwardly with me, I prefer the more literal reading of "Nyaasu") is from a side series from the same figurine line, Chibi Kyun Chara (small cute character).
The characters are presented in a "chibified" style, with large heads and eyes with tiny bodies. It's a design choice that doesn't always work but in this case it fits the characters well. The character's feet feature little peg-holes that allow them to clip onto neat little podiums with a Poké-Ball symbol and their Japanese names written in English. There are also optional stalks to support their large heads and prevent them from falling off their stands.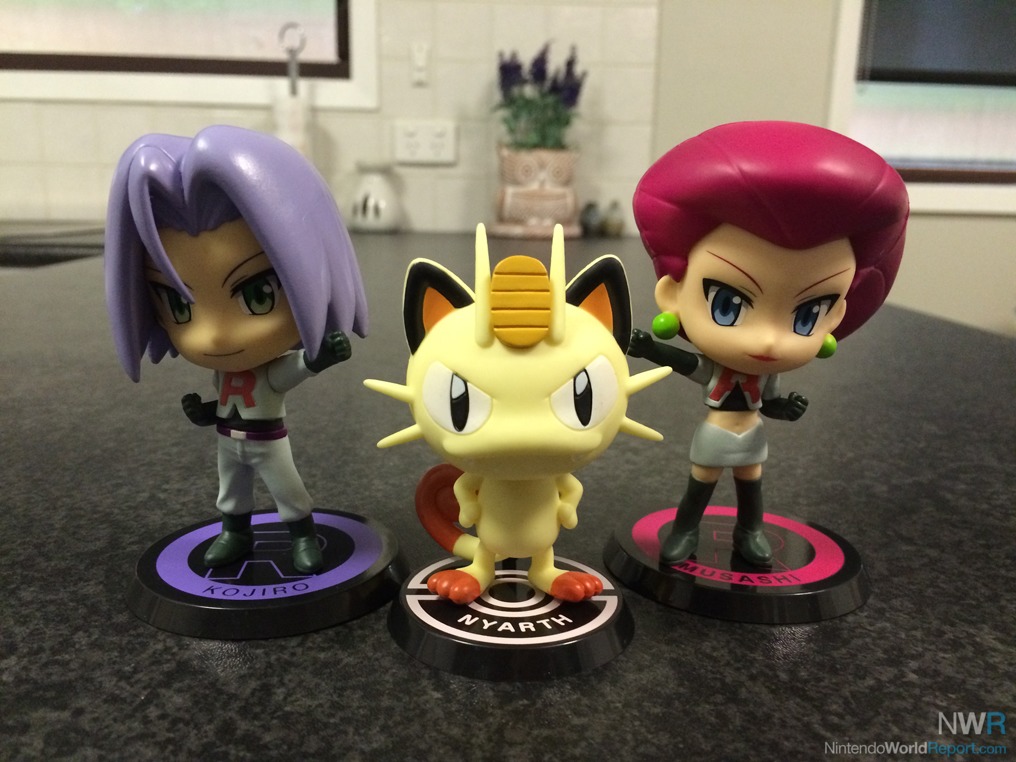 Surrender now, or prepare to fight!
The trio sit nicely together, and Musashi and Kojiro even have a cute little fist-bump going on when positioned in the right way. This figurine set was made around the time the Black and White – or Best Wishes in Japan – series was airing, and the full collection also contains Ash, and Pikachu in several poses and a variety of other Pokémon. I'm only interested in the Rockets, myself, but overall they make great little decorations for your shelf.
Well, that's all I have to show for today, but as always there are some extra pictures in the gallery below. Thanks for reading!