Just in time for the launch of Mario Party 10!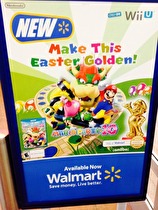 The heavily-rumored gold Mario Amiibo is coming to Walmart as a retailer exclusive, according to a leaked promotional poster.
Apparently Nintendo is tying the release of this exclusive figurine to the launch of Mario Party 10, which is scheduled for release on March 20. Whether this is some sort of pre-order incentive or special bundle remains to be seen.
Nintendo has yet to confirm the validity of this news, so stay tuned for a formal announcement. In the meantime, check out our comprehensive Amiibo guide.