Ever been surrounded by five enemy pokémon? You'd better get used to it.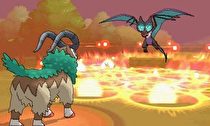 Pokémon X and Y will include some new battle types, including one that really tilts the odds against the player.
Horde encounters, revealed during Nintendo's recent E3 Pokémon X and Y Roundtable, pits the player against up to five enemy pokémon. These opponents can all be the same type of pokémon or a mixed group, and they do all get to attack the player in one single turn. On the other hand, some attacks are capable of hitting all five of your opponents in turn.
Sky Battles, another special battle type shown, was more like a regular battle setting but this time only restricted to flying types and a few select others. For example, Haunter was shown to be able to participate despite lacking the Flying type designation because it had the Levitate ability. If trainers don't have the eligible pokémon to join the battle, then they simply won't be able to start the battle.
During the course of showing off the new features, the developers also revealed some new pokémon:
Skrelp, a new Poison and Water type
Claunch, a Water type
Noivern, what appears to be a Flying and Dragon-type pokémon, revealed at this morning's Nintendo Direct
Talonflame, a Fire and Flying type
As well as some new pokémon attacks, like "Boom Burst," a normal-type attack.
Correction: Thanks to user "the asylum" who pointed out that Brave Bird, initially listed as "new," was a pre-existing move from the 4th generation of Pokémon.