Get ready for some 3D Pokémon in mid October, worldwide.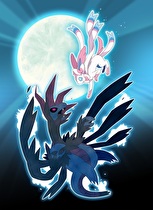 Nintendo revealed at the Nintendo Direct event this morning that Pokemon X and Y is set for a worldwide release on October 12. The game features a new Pokémon kind of Pokémon: Fairy type. This new type of creature is strong against Dragon typed Pokémon.
A new mode, which is like a virtual pet simulation, is also being introduced that allows players to pet their Pokémon via the touch screen, feed them snacks and put them in various poses.
This new mode, called Pokémon-Amie, will help gamers build deeper relationships with their Pokémon.