Nintendo says things are looking up for 3DS. For DS and Wii, however...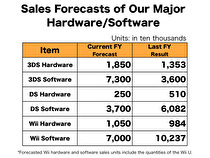 Software and hardware sales forecasts regarding 3DS, DS, and Wii were revealed by Nintendo President Satoru Iwata at the recent investors meeting.
On the 3DS front, Nintendo predicts a 100 percent increase in software sales and an increase in hardware sales of almost 40 percent from the previous fiscal year. "From this fiscal term, we will be in the harvest time for the software sales of the Nintendo 3DS," Iwata explained.
Regarding the DS, sales of both hardware and software will decrease by approximately 50 percent, Iwata noted, crediting this to the small amount of games releasing in the fiscal year.
On Wii, hardware sales are predicted to have a slight increase, though software is predicted to take a dramatic drop alongside DS. This, like the DS, is partly due to a smaller quantity of releases, but also the release of the Wii U.
"We don't anticipate that the software sales of the Wii U can compensate for the decrease in those of the Wii because the Wii U will be launched as late as in the holiday season and then the total unit sales of the Wii U will be limited in this fiscal year. This is one of the reasons our business performance inevitably fluctuates when we change platforms," said Iwata.