From systems to Amiibo, they're all here.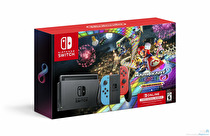 The standard hardware bundle is across all retailers is the $299 bundle for a rev 2 Switch, a digital code for Mario Kart 8 Deluxe, and a 3 month Switch Online code: as Nintendo is want to do, they're going with adding value to the same price rather than a formal price drop.
Among the accessories, Best Buy is the spot to go to thus far, with a selection of discounted Amiibo of the Animal Crossing and Pokemon variety. Other items to watch for:
400 GB microSD cards (Sandisk): $60 - note that Amazon will probably have a lower price here.
eShop cards: 10% off
Assorted cases: $6.49 - $12.99
Rocketfish Dock: $24.99
Screen protector set: $4.99
5000mAh Battery Pack: $19.99
PowerA Wired Controllers: $12.50 - will also be $10 at Target.
Huge thanks to the administrators of the Black Friday Game Deals spreadsheet for this page and the next.