We settled on five games that we thought were the best of the show.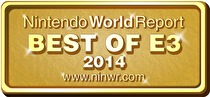 E3 2014 was very easily one of the better Nintendo showings in recent memory. From the pervasiveness of Super Smash Bros. for Wii U and 3DS to the surprise of Splatoon and Code Name: S.T.E.A.M., there were a lot of fun and interesting games on display. So, the attending NWR staffers put their heads together to settle on our five games of the E3 2014.
In case you didn't know, our attending staff were Neal Ronaghan, Justin Berube, James Jones, Jared Rosenberg, Jonathan Metts, Aaron Kaluszka, Michael "TYP" Cole, Kimberly Keller, and Becky Hollada. Enjoy!