Name your choice for the Wii U or 3DS game that wowed you at E3, and you could win eShop credit or game downloads!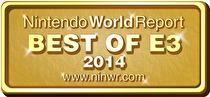 Update:
The giveaway is over! Thanks everyone for your entries, posts, and stories! It's exciting to see what caught everyone's attention, and even how some people couldn't restrain themselves to just one or two games! Some NWR staffers even joined in even though they aren't eligible to win!
The winners by random drawing, who will also be contacted by PM separately, are:
AdmanAbou, who wins the $20 eShop Code!
Phoenixman, who wins the Advance Wars Wii U VC DL code!
Eiksirf, who wins the Mario & Luigi: Superstar Saga Wii U VC DL code!
Don't forget that we can also work with you if you'd like to receive a different prize from our alternate Nintendo World Report prize list!
Once again, thank you everyone for your participation and look forward to ANOTHER prize giveaway very soon!
Original Post:
The NWR staff have already given out their E3 accolades, now it's your turn to name your pick and possibly win some prizes along the way! Merely respond to the NWR Forum Talkback thread for this article (via the "Add to the discussion" link below) with your chosen game, be it a landmark blockbuster or indie darling!
A $20 eShop Code, as well as Wii U eShop download codes for Mario & Luigi: Superstar Saga and Advance Wars, will be awarded at random to qualified entries! (And if those don't do it for you, we've got an NWR alternate prize list that also has an assortment of accessories, games, and paraphernalia you can choose!)
Winners will be chosen Wednesday night, so don't wait too long!
If you need to peruse the candidates more closely, be sure to check out the full spread of Nintendo World Report's E3 coverage!