Two very different games brought rhythm and innovation to the GameCube.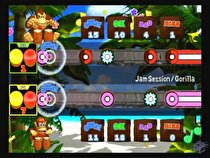 Game: Donkey Konga
Year: 2004
Developer: Namco
NWR Score: 8 (Mike Sklens), 8.5 (Daniel Bloodworth)
Why is this game worth honorably mentioning?
Long before Guitar Hero and Rock Band rocked the way we perceived the rhythm game genre, there were several silly but endearing attempts at bringing new musical concepts to the video game industry. One of these was Namco's Donkey Konga, a game based on their classic Taiko Drum rhythm games. Donkey Konga starred Donkey Kong and his Kong clan in a series of musical sessions involving the endlessly charming bongo drums peripheral. Gameplay was very easy to learn, using left, right and clapping for its mechanics, and mixed that with the catchy music and the various multiplayer modes made for the perfect party game.

Why didn't it make the Top 10?
The Japanese version had an eclectic musical selection that featured everything from old anime theme songs to classic video game tunes. Unfortunately, the North American version replaced many of these songs with old pop songs and public domain children's songs, stripping the game a bit of its captivating appeal. It wasn't bad, just not as engaging in its import form.

What's your favorite moment in it?
Being in the same room with three other players with their own pairs of bongos, clapping in rhythm to "Do your ears hang low." No one was killed, no one was saved, all we did was bang on our toy drums. And yet, that managed to be one of the most epic video game moments ever. It perfectly captures why Donkey Konga is a cult classic among Nintendo fans.
---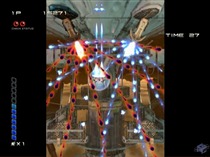 Game: Ikaruga
Year: 2003
Developer: Treasure
NWR Score: 8.5 (Jonathan Metts), 8.5 (Ty Shugart)
Why is this game worth honorably mentioning?
Ikaruga is not only the best shoot 'em up on GameCube, it is easily one of the greatest arcade shooters ever conceived. Ikaruga is well known for its devastating difficulty, but more importantly, it turned the bullet hell shooter genre a much needed breath of fresh air with its innovative polarity mechanic. This mechanic, which allowed you to switch between black and white to absorb attacks, added an extra layer of attack vs. defense strategy, which has since been copied in a number of games, shooter and non-shooter alike. While Ikaruga's focus is gameplay, the game is complemented by cinematic music and visuals and an underlying, if subtle, philosophical message.
Why didn't it make the Top 10?
Though they played a critical part in the history of video games, shoot 'em ups were relegated to a niche genre by the late 1990s. The bullet hell sub-genre emerged, which sought to overwhelm all but the most dedicated gamers with a seemingly incomprehensible swarm of fire. As such, Ikaruga is a notoriously difficult game, which automatically excludes a large swath of the gaming populace. Yet with levels based on patterns, the game was difficult, but not cheap.
What's your favorite moment in it?
The final level epitomizes the polarity mechanic and players who make it to the final stage are treated with a back-and-forth boss battle. Locked in intense rhythm, the penultimate boss's powerful shots can be absorbed and immediately returned, making the battle one of the simpler ones, but yielding a supremely satisfying feeling after the blitz of the previous five stages.

The Dreamcast version suffered from slowdown, unlike the arcade-perfect GameCube release.