GameCube
Ikaruga
Ikargua is the beautiful hit Japanese 2D vertical shooter ported from the arcades and Dreamcast to the GameCube.
You control a ship that can change polartiy, black and white. The same colored enemies and bullets will show up on screen. It's your job to absorb the same color bullets, avoid the opposite color bullets, and switch colors at the proper time to avoid getting blown up.
Five levels challenge you, and worldwide internet ranking will drive you for higher scores.
Screens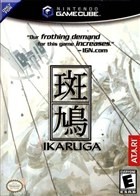 Genre
Shooter
Developer
Treasure
Players
1 - 2