How could the new controller add to the traditional FPS experience?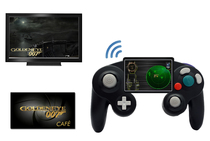 These ideas are not limited to another GoldenEye remake per say, which is to say these could work for any FPS be it a Conduit or a Call of Duty.
First of all, I hope the controller has a standard dual analogue setup in addition to the almost-but-confirmed touch screen. The following ideas are concerned with the touch screen and camera.
Alternate sights/visors
One of my favourite weapons in Perfect Dark was the Slayer missile launcher. You could fire off a rocket and guide it around corners towards your enemies in first person. I'd love to see this working on the controller screen, it would also be better in multiplayer as your friends wouldn't be able to see where you're guiding it.Another fun weapon was the Farsight, also known as 'the gun that can fire through walls', originally from the Arnie shoot-fest Eraser, but now copied in modern shooters.The problem with this weapon is that it's hard to balance such a powerful gun, by putting the thermal/infra-red image on the controller you are restricting its use by giving it an extra layer of skill needed to aim.There is also potential for other visor uses like x-ray type devices that you could hold up to the screen using tilt and scan through a wall for enemies or hidden items.
Radar
Bear with me on this one, it may not sound that exciting at first, but think of multiplayer where the radar is not displayed on the TV screen, it could really balance things out.If players are forced to glance down at their controllers to spot where their friends are, they are leaving themselves vulnerable in the meantime. Radar abusers will now look like idiots as they got shot in the face for looking down at their controller screen too long. Next imagine an Aliens Vs Predator game where the iconic blips are emanating from the controller, you make your way down a darkened corridor, using your flashlight you can't see any aliens up ahead, you glance down to your controller and you see 3 white dots heading towards you…
Camera
With the recent news of a camera possibly being part of the controller, it got me thinking about the cancelled feature of Perfect Dark, where in which the GameBoy Camera was to be used in conjunction with the Transfer Pak to allow you to scan your face for use on your avatar. With a built in camera, this should be a given with FPS games on Project Café, however if people are still touchy on the idea of literally 'shooting your friend in the face', I guess I could settle for a floating icon above the head of the avatar so at least you know exactly who you are shooting at.
Other less-exciting, but useful ideas could include; switching and combining weapon and gadget load outs using the touch screen (also good for multiplayer), using the screen as a PDA device for objectives and maps, unlocking pass-coded doors, disarming bombs, hearing mission updates via the controller's (potential) speaker, adjusting sights and weapon add-ons on the fly (as in Crysis) and sending private text messages or commands during multiplayer.
Of course all of these functions would be less fun if the two analogue sticks aren't perfect. I mean perfect. The N64 started it off with the best one for it's time, the GameCube had one good and one terrible one, the Wii removed one altogether, the Classic Controller Pro was a step back in the right direction – now perfection must be realised.
Don't get me wrong, I'm a huge fan of pointer controls on the Wii, it's just I think this standard controller needs to have them from the get go, without attachments.
I hope Nintendo realises how important it is to get that right, as if it doesn't have the right amount of buttons and comfortable sticks, a beautiful touch screen isn't going to convince certain hardcore gamers to play FPS's (or even other certain genres) on their console.