A second screen for a handheld camera? Gotta Snap 'em All!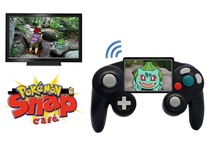 In the original game, players rode around the land in the motorized Zero-One vehicle, which followed along a set track as you tried to capture pictures of wild Pokémon in their natural habitats doing their Poké-thing. 
The vehicle is still a great idea as it could travel along varying terrains, move underwater and even hover and fly. This time however, give control to the player, so they can explore and drive wherever they want to go! Why not equip the thing with a drill or something so that players can burrow through certain walls to find caves teeming with Rock-type and Dark-type Pokémon?
I can see some players maniacally chasing and running over Pokémon with the vehicle just for kicks. I'd hope that during the mission debriefing after each stage, they would be penalized for such things - it's just not kosher. Of course, crashing your buggy into the backside of a Tyranitar or an Ursaring would not be a wise move to begin with anyway, and they'd probably retaliate with brute force. This could be part of the gameplay where in which there could be a time when your vehicle is so badly damaged that you fail the mission.

Assuming the controller will also contain some kind of gyroscope like the 3DS, moving and tilting the controller should move the camera, allowing the controller's screen to show a first person perspective of the camera lens is pointing at. Anyone doubting the use of gyroscopic camera control should play Face Raiders, it really does work. The TV screen could show the overhead third person view, this way you'd get two views of the same action, making it much more immersive.
There should also be times when you leave the vehicle and proceed on foot. Remember the episode of the Pokémon TV series when Todd Snap joins the group and they sneak into a phony Breeding Center to take photos? Imagine a mission where you have to infiltrate an entire facility owned by Team Rocket/Galactic/Plasma/Whatever, creep about without being seen and capture irrefutable evidence of Pokémon in cages, then stealthily slip out and report to Officer Jenny.
Lastly of course, I want to see MANY MORE LEVELS (the first game was so short it could be completed within a few hours), and MANY MORE POKéMON (likewise, the first game only featured some 60 or so of the 151 monsters in the first generation of games). Show Pokémon from all regions, heck, why not have levels set in all regions? I don't care if they're so obscurely hidden that it takes months to uncover every last little creature hidden away, that's just the kind of difficulty this game needs.