Questing ain't easy.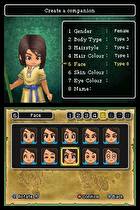 Dragon Quest IX: Sentinels of the Starry Skies

Do you remember Dragon Warrior? I sure do, probably because of its kickass box art. I played it as a youth, trekking through its wooded continents and soul-sucking poison swamps. I battled Drackys, Slimes, and Golems, and I loved it. But since then, my tolerance for RPG's faded. Largely by choice, I skipped out on most of the SNES' role player games, with some notable exceptions.
I believe it's been established that I am helpless in the face of gaming peer pressure. After hearing multiple staff colleagues praise Dragon Quest IX, I ended up buying it as well, and let me tell you right now—it might be the best game on the Nintendo DS.
| | |
| --- | --- |
| | |
It genuinely has something for everybody. Want to collect a lot of weapons and armor? See every monster? Find every hidden dungeon? You can do that. Want to experience an oddly compelling, charming, and often hilarious story that is roughly 40 hours long? Such a goal is also within your reach here. How about experiencing one of the prettiest DS games, with one of the best soundtracks and pitch-perfect, pun-filled translations? Dragon Quest IX is a showcase in that regard. The music infects your brain, and you will come to love your created characters, maybe more so than individual characters from past Dragon Quest games. Though your main character is, as usual, a silent protagonist, his or her quest is real, the game's main villain is menacing, and you'll find yourself exploring all manner of environments and dank caverns in your quest for justice.
Better still, one would not be incorrect in suggesting that Dragon Quest IX simply has no end. Subquests continue long after the end credits roll, and the entire scope of the world blows open once you gain control of the Starlight Express—it's kind of amazing. Whether you, like me, traditionally dislike RPGs, I can safely say without a shadow of a doubt that some part of Dragon Quest IX is for you. And who knows—you might even learn to love the other parts of it, too.