It's all over, but donations remain open! UPDATE Oct 19: Entire show is now available for download! Donations close Saturday!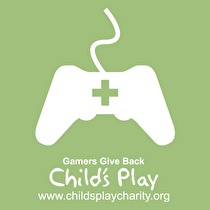 Replays of the show are now available. If you're subscribed to the RFN feed they'll download automatically, otherwise, we'll be uploading a new part each day.
Part 1: 11:30 AM - 3:00 PM: MP3, AAC
Part 2: 3:00 PM - 6:00 PM: MP3, AAC
Part 3: 6:00 PM - 9:00 PM: MP3, AAC
Part 4: 9:00 PM - 1:00 AM: MP3, AAC
It's time for Nintendo World Report's annual telethon for Child's Play charity.
What is Child's Play? "A game industry charity dedicated to improving the lives of children with toys and games in our network of over 100 hospitals worldwide"
What are we doing? A 12 hour telethon to raise money that will provide games and toys for kids in hospital. We'll also be giving away a smorgasbord of prizes for listeners during the telethon!
When? Saturday, October 15, starting at 11:30 AM Eastern.
How can I help? Show up at. Spread the word. Donate.
Where? Right here! The chat, stream link, and donation widget will be in this very article!
We have over 13 hours of content planned - but for us to get to all of it, we're going to need your donations to unlock the later segments. Here is our schedule, and the donation levels required to unlock them.
Oct 11: Tiers Updated
***All Times Eastern Daylight***
| | | |
| --- | --- | --- |
| 11:30 AM | Introduction | Free |
| 12:00 Noon | Radio Free Nintendo: Wii U Retrospective | UNLOCKED |
| 1:00 PM | Cube Fight: Animal Crossing vs. Star Fox Adventures | UNLOCKED |
| 2:00 PM | AustinMates Play Super Mario 64 (for the first time!) | UNLOCKED |
| 3:00 PM | Daan "Koopsoge" Koopman and Friends Present: The Worst of the eShop | UNLOCKED |
| 4:00 PM | Radio Trivia: Live! | UNLOCKED |
| 5:00 PM | Nintendo News Report Presents: The Final Pokemon Sun and Moon Preview Spectacular | UNLOCKED |
| 6:00 PM | Pitch Your Game - with Syrenne McNulty | UNLOCKED |
| 7:00 PM | Famicast Hour (with John and JJ from 8-4 Play) | UNLOCKED |
| 8:00 PM | Super Mario RPG Retrospective | UNLOCKED |
| 9:00 PM | NFR Determines Nintendo's Greatest RPG System with RPGamer | UNLOCKED |
| 10:00 PM | J&J: Make That Game Today! | UNLOCKED |
| 11:00 PM | All Things Prehistorica | UNLOCKED |
| 12:00 Midnight | Shenanigans | UNLOCKED |
If you missed any of the previous years, check them all out: 2010, 2011, 2012, 2013, 2014, 2015