A now-hidden product listing on Amazon for an official Overwatch Nintendo Switch case has revved the rumor mill back to life.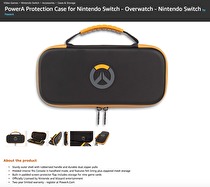 Could Blizzard Entertainment's popular Character-based Online Team Shooter be coming to Nintendo Switch? Rumors to that effect aren't new, but a recent product listing on Amazon from official Nintendo accessory manufacturer Power-A has forcefully brought such thoughts to the fore.
For a brief period on Monday, Power A had a public listing on the Amazon store for a Nintendo Switch case themed with orange-colored imagery of the Overwatch logo. Power A is an official partner with Nintendo where Switch accessories are concerned, and has made previous Switch accessories featuring Nintendo franchises, all the more official with the prominent display of Nintendo's own Seal of Quality. One bullet point for the product listing in quetion claimed that it was "Officially licensed by Nintendo and blizzard entertainment."
Overwatch is one of Blizzard's top current properties, an online first-person shooter where players choose to play as characters who have very distinct playstyles and roles, strengths and weaknesses, and then battle it out in team-based combat. However, if true, it wouldn't be the first Blizzard property to come to Nintendo Switch. That honor would go to Diablo 3, which released in November 2018 for the Nintendo Switch.
The Amazon product listing which spawned this flurry of speculation is now no longer available on the Amazon website.