A supposed screencap of a game distributor says the system will come in three bundles.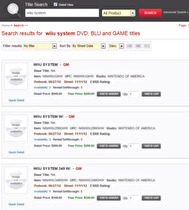 The Wii U might be hitting stores a week earlier than expected, according to a video containing information from Video Products Distributors.
The listing states that the system will come in three different bundles. A $249.99 bundle that appears to be just the system, a $299.99 bundle that likely comes with a game, and a $349.99 bundle that likely comes with either two games or a game and an array of accessories.
Video Products Distributors works with several big-name sites, including Amazon, Overstock, Blockbuster, and NewEgg.
This information is contradictory to most rumors and reports regarding the Wii U launch date in North America, which many assume will be November 18. We will likely find out for sure on September 13 at a Wii U-focused event hosted by Nintendo of America in New York City.
We are currently waiting for a response from Video Products Distributors to confirm the validity of this screen capture.