Your next round of monster battling may occur sooner than you think.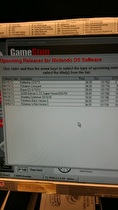 Pokémon Black and White 2 may be coming out on Tuesday October 2, according to a photo of a GameStop release schedule (and recently confirmed via phone call).
Although GameStop dates are known to be fairly close to the genuine date in many cases and Black and White 2 is expected to come out during the fall, the date is still unconfirmed. In addition, Nintendo usually releases Pokémon or other major titles on Sundays.
Pokémon Black and White 2 comes out in Japan June 23.