UPDATE: Confirmed for Europe. Monsters captured in the upcoming application can be transferred to Black and White 2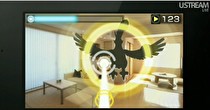 Pokémon AR Searcher has been revealed on Nintendo Direct by Nintendo President Satoru Iwata. Nintendo of Europe's Satoru Shibata confirmed the game's European existence during their Nintendo Direct.
The app will be exclusive to the 3DS eShop and use augmented reality to capture Pokémon that can then be carried over into Pokemon Black and White 2. The application releases on the eShop June 23 (alongside Black and White 2) for 300 yen. There is no release date set for Europe.