UPDATE: Confirmed for Europe. Fans can now view both new creatures and old in 3D.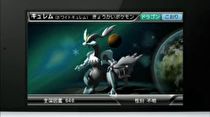 Pokémon Zenkoku Zukan Pro, an update to Pokémon Pokédex 3D, was revealed during Nintendo Direct by Nintendo President Satoru Iwata. Nintendo of Europe's Satoru Shibata confirmed the game's existence in Europe during their Nintendo Direct.
The application, which will release prior to Pokémon Black and White 2, will feature both new Pokémon from the upcoming games as well as older Pokémon from previous generations.
The application launches July 14 in Japan for 1500 yen. There is no release date for the European version.