She doesn't even have a mouth.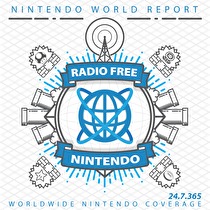 Subscribe via iTunes (Please rate and review, too!)
James was unable to start the show this week, so he left some very specific instructions for his cohorts. They were not followed. We're sorry in advance for the next two and a half hours of your life.
Greg starts A Very Lindemann New Business with a look at Battle Chasers: Nightwar, a non-Japanese JRPG based on a 90s comic. He was aware of the game's reputation for a sudden difficulty spike, and took precautions, but this may have padded the length a bit. He also took advantage of his Nintendo birthday discount - making him the first documented person in history to be offered a game they didn't already own - to get his hands on Super Mario Maker for 3DS. He mostly bought it for the included stages, and for the paltry price he paid he isn't perturbed. Guillaume is working on his future career as a Japanese convenience store clerk with ACA NEOGEO Money Puzzle Exchanger. He also has a look at Space Dave, a Galaga-inspired sequel to Woah Dave!, itself the sequel to Dave. Lastly, he looks at Adult Swim Games' weird new billiards game Pool Panic. Ever want to be a cue ball bent on nihilistic destruction? Seek help, but also this game is really for you. Jon is also in on an ACA NEOGEO game, with League Bowling. It's an arcade bowling game; there's not a lot of jokes to make here. James concludes New Business with more thoughts on Shining Resonance Refrain. He's way into the dating mechanics now, and they're not exactly melting his heart.
After the break we knockout a trio of Listener Mail. This week we offend everyone with the following: who is the worst fanbase, what's the next Nintendo character to have their mind stolen by a sentient hat, and will the next Mario Kart game be on Switch? You too can help us alienate our listeners by sending us an email.
This episode was edited by James Jones. The "Men of Leisure" theme song was produced exclusively for Radio Free Nintendo by Perry Burkum. Hear more at Perry's SoundCloud. The Radio Free Nintendo logo was produced by Connor Strickland. See more of his work at his website.
This episode's ending music is Indoline Praetorium (Night), from Xenoblade Chronicles 2. It was requested by Martin. Composition by Yasunori Mitsuda. All rights reserved by Nintendo Co., Ltd.