We're FINALLY back from E3 with fresh games and your Listener Mail (mostly about the show, of course).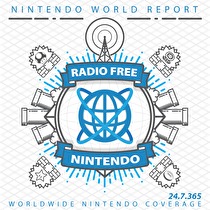 Subscribe via iTunes (Please rate and review, too!)
We're sorry that you had to wait so long for a proper episode after E3, but it's here now, and it's full of new games and your questions about what went down at gaming's biggest show.
Guillaume begins at the beginning, with Earthbound Beginnings. He also tries the new(-ish) Dr. Mario for 3DS and revisits both Pikmin (New Play Control version for Wii) and his beloved Pikmin 3. Jon focuses on New Super Mario Bros. U (not to be outdone by rival J.C. of the Famicast) and shares tales of a recent visitor. James goes arcade-esque with Donkey Kong '94 and Whoa Dave! Then, he leads a group discussion of Splatoon, which continues to be a satisfying summer game for most of the crew -- and Jon might even try it soon. This is a big, catch-up edition of New Business after a few weeks away, so Jonny wraps up the segment with final thoughts on Elliot Quest, a return to Broken Age, and a surprise licensed game for 3DS.
We didn't get to as much Listener Mail as originally intended, so look for more coming very soon. However, there is an attempt to explain SMT X Fire Emblem (or whatever its nonsense name) and consider ways that Miyamoto could excite people who always seem to catch up years later. That sort of derails us into a final summary of Nintendo's appearance at E3... Finally, against our better judgement (i.e. Guillaume), we approached a joke question that lead us down the dark path of Metroid Prime: Federation Force. It definitely wasn't the most cheerful way to end the podcast, and we'll do better next time. Won't you please help?
After you send in that one topic that's bugging you, please check out Jonny on the latest episode of Connectivity (sounding much more hopeful about Metroid) and tackling all the summer movies over on Box Office Poison. There's more cross-media fun coming soon from your RFN buddies! And of course, we have a lot more to say about Nintendo's outlook throughout this summer and beyond. Thank you all for listening!
This episode was edited by Guillaume Veillette. Now Playing was produced by James Jones and Jon Lindemann. The "Men of Leisure" theme song was produced exclusively for Radio Free Nintendo by Perry Burkum. Hear more at Bluffs Custom Music.