The hot news parade continues as we get into the latest Skyward Sword details and 3DS announcements from Japan. Plus: Mega-Impressions of Xenoblade!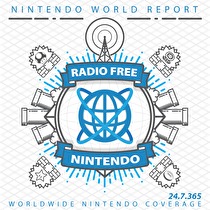 Subscribe via iTunes (Please rate and review, too!)
With TGS ongoing and Nintendo's 3DS Conference still fresh on our minds, the RFN crew just can't stay away from the news lately. We start with exciting new details on Skyward Sword that make us more excited than ever for the long-awaited Zelda sequel. Next up is the bombshell: Monster Hunter 4 is coming to 3DS. You may not care, but we'll explain why it's very good for the platform and will help generate other titles that you do want. We also have real details on the Expansion Circle Pad, plus a few thoughts on the various other 3DS games announced last week in Japan.
The rest of the show consists of New Business, and you're about to understand why. Greg kicks it off by defending his purchase of Star Fox 64 3D. James drops a love grenade on his imported copy of Xenoblade Chronicles, detailing many of the game's elements and why he adores virtually all of them. Jon takes a stab at Radiant Silvergun, the legendary Treasure shooter that just hit XBLA. Jonny brings us home with a return to Hyrule in the original Legend of Zelda on 3DS, as well as some early but positive impressions of Castlevania: Lords of Shadow, a series we just might see continued on Wii U.
We'll return to your Listener Mail next week, so please send in those letters!
This podcast was edited by Greg Leahy.
Music for this episode of Radio Free Nintendo is used with permission from Jason Ricci & New Blood. You can purchase their newest album, Done with the Devil, directly from the record label, Amazon (CD) (MP3), or iTunes, or call your local record store and ask for it!
Additional music for this episode of Radio Free Nintendo is copyrighted to Nintendo, and is included under fair use protection.