That's odd, I don't even remember being nominated.
In many ways, Animal Crossing: New Leaf is the same game that we've been playing for 11 years. We've seen gradual evolution across the four iterations, but never a full-fledged redesign of the series. In New Leaf, you spend your time fishing, planting fruit, paying off debt, contributing to a town museum, expanding your house, collecting furniture, and participating in all of the other staples of the Animal Crossing series. The silver lining is that these things are all still pretty fun, and New Leaf does its best to maintain the series feel while polishing the interface and mixing up the options for customization.
This is absolutely the best Animal Crossing game yet, and also the one with the most stuff to do. The differences are noticed immediately once you arrive in town and are unexpectedly declared mayor. As mayor, you will go through a brief tutorial (significantly changed for the first time since the 2002 GameCube original) that includes finding a plot of land to call home, collecting seashells, and getting to know your neighbors. The full experience of the game isn't gated behind the tutorial like in previous games, and you can take on these activities at your own pace.
Another benefit of your newfound position of mayor is the ability to shape the town in ways never seen before in an Animal Crossing game, both through public works (new structures) and ordinances (new rules). These allow you to change the hours of the shops, increase the amount of money that you will get from selling items to the shops, and even add new bridges or decorations. Your town will truly be your own after you've finished a few public works projects, and that's a feeling that was hard to come by in previous games in the series.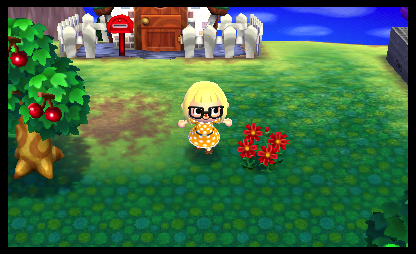 The public works projects change the focus of the game from paying off your house debt to paying down the donation boxes for new town structures. The effect this has on the game is that your house and the things inside it take a backseat to general town improvements. It's a welcome diversion from simply trying to add another room to your house for furniture, as in previous Animal Crossing games. New public works projects will be added over time, giving the player lots of ways to keep customizing and improving their town.
Although the Animal Crossing series is not known for its visuals, the graphics in New Leaf are a series high point. The grass shimmers as it fades into the distance, the water glistens under the moonlight, and the animals have far more detailed textures here than in previous games. The water effects are actually a bit of a hindrance when trying to fish at night, as the fish do not leap out from the water as easily as in previous games due to the added complexity of the water effects. The music, like previous games in the series, is wonderfully mellow. It changes depending on the time of day you play, with the night sounding ethereal and soothing and the morning peppy and cheerful.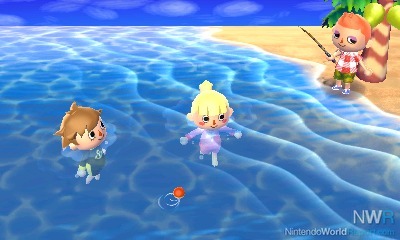 The multiplayer gameplay from previous Animal Crossing games remains mostly unchanged. While playing on a 3DS that's connected to the Internet, you can either open your gates to accept local or online visitors, or you can hop on a bus and visit towns via local wireless or online. Players have to have their games open for you to visit, requiring a bit more communication than the 3DS is really equipped to handle, but if you have a nice collection of friends playing the game on your list, hopefully leaving your gates open will result in one of them stopping by. In addition, you can visit other towns via the Dream Suite. The town you visit is chosen at random, and no items can be taken to or taken home from the town. The only thing that can be retrieved from the towns you visit in the Dream Suite is a new pattern.
One major addition to New Leaf is the Resort Island. Not only is the island a great place to get new tropical fruits and fish, but the island adds a new component to the multiplayer by allowing multiple players to travel as a group and participate in mini-games. The mini-games award trophies and medals which can be used as currency on the island shop. It's always nice to have new environments to visit that are specific to each town, and the Resort Island in New Leaf is among the best in the series. The island even introduces a new gameplay mechanic: deep water swimming. You can either borrow a wet suit for island use only or spend medals at the shop to pick one up and bring it back to your main town. Deep water swimming adds entirely new types of sea creatures that can be caught, most of which are shellfish. It takes a little more patience to catch a deep water fish, but they will fetch you more money when you sell them.
Another new feature is the Happy House Academy showcase, which allows you to use StreetPass to collect house layouts from other players and visit them offline in your own game. Once unlocked, you can view houses from other players and even request furniture from those houses to be delivered to your town shop (for a price, of course). I was unable to test this feature, as the game has not been publicly released and it was therefore a tall order to find someone to StreetPass with, but the potential is there to more quickly find and collect the furniture that suits your interests.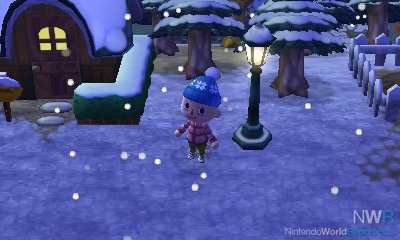 The last new major addition to New Leaf worth discussing is Main Street, the centralized hub of most of your town shops and offices. Although not all of your shops will operate on Main Street, which can be reached by crossing the train tracks on the north side of town, most of them will be found there: the museum, Tom Nook's real estate business, the Nook nephew's shop, the Able Sisters, and several new locations that will be opening up in your town the more you play. It's nice to have quick access to all of these places at once, and it frees up more room in your town for the customizations you really want.
Animal Crossing: New Leaf is a beast of a game, featuring hundreds of hours of open-ended gameplay. If you were turned off by the lack of structure and real goals in previous Animal Crossing games, nothing here will change your mind. If you find the slow paced sprawling sort of play that Animal Crossing encourages to be your cup of tea, then New Leaf will give you all you could ever want and more. If nothing else, it's a great excuse to hear your animal friends spout out customized phrases to suit your style. "Hey, what's up Dookieface?" Indeed.