Love, thy name is Able Planet.
Let's get something straight, right off the bat. These headphones are total and complete overkill for your DS. With a current price tag of $149.99, it's actually worth more than your DS, and the sound capabilities of this set so far outstrip the capabilities of Nintendo's handheld that it almost seems like an insult to plug the jack in. That being said, if you're looking for a powerhouse product and plugging said set into your DS is part of the plan, then you could do a hell of a lot worse.
Published under the sponsorship of LoSt-CaUzE, noted competitive Quake IV player, Able Planet's Active Noise Canceling Stereo Headphones are probably the most impressive audio product I've ever used. Completely covering my ears, the sound is crystal clear and immediately immersive. The difference between this and my last set, a pair of SONY MDR-V150 Dynamic Stereo Headphones, was astronomical, and I couldn't have been happier.
Then I flipped the Noise Canceling Switch, and realized that, indeed, I could.
My roommate is a trumpet player, and he practices nightly. It needs to be said that, even when he was blasting as loud as he could muster, when I activated noise cancellation, I could barely hear it, and my volume was only two-fifths up. After putting the volume up to three-fourths, I couldn't hear the trumpet at all.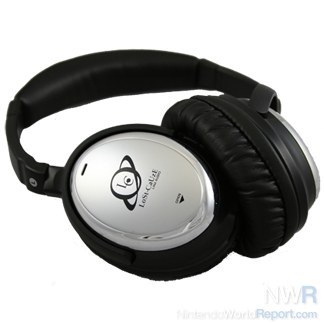 Soak it in, ladies and gentelmen...
One peculiar, if mildly annoying drawback to this feature is that it seems to pick up a slight buzzing noise when cell phones go off. Though the buzz isn't at all crippling to the experience, it is immediately noticeable.
As far as comfort goes, the full-sized ear cups hug like a warm blanket, never feeling uncomfortable, even after long use. My old set would often make my ears sore if I wore them for longer than an hour. The thick cushions available here don't provide such problems, however, and the lightweight strap keeps it firmly placed on your head, never slipping.
Also included in the package is an audio splitter for connecting multiple headsets to one outlet, a 6.35mm jack converter, a 6-foot extension cord, and a storage case for the headphones as well as all of the above.
Though my time with this set has been fantastic, the steep asking price shows that this package clearly isn't meant for the average consumer, and is instead aimed at the premium consumer, which is likely not Joe DS Owner, who's probably just looking for a little more out of Elite Beat Agents. But if cost isn't an issue, and you're looking for quality, then Able Planet's Active Noise Canceling Stereo Headphones are an excellent answer.