One of these is brand new, while the other's been around for a while.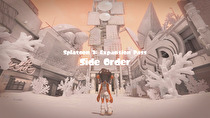 A couple of Nintendo's biggest sellers have confirmed DLC details today.
Splatoon 3 has announced their plans for paid downloadable content, which will come in the form of an expansion pass scheduled to be available for preorder today. The first part will be available in March and consists of an option to use Inkopolis (Splatoon 1) as a hub, including new shopkeepers and performances by the Squid Sisters during Splatfests. The second pack, "Side Order", is a single player campaign of some description - it has no release window.
Mario Kart 8 Deluxe teased a couple of elements for wave 4 of the Booster Course Pass, which is due in spring. A new Yoshi's Island variant will be added in the pack, and Birdo will become playable in Mario Kart for the first time since Double Dash. The wording suggests that further characters will be added through the pass.