"Why then did they change the name?" "People liked it better that way."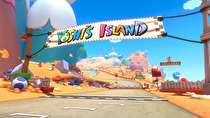 The fourth wave of the Mario Kart 8 Deluxe expansion pass is dropping just in time for Mario Day.
Wave 4, which adds Birdo as a character as well as eight more courses, will be available on March 9. The eight new courses are:
Super Circuit Riverside Parkway
Double Dash Waluigi Stadium
DS Mario Circuit
Wii DK Summit
Tour Bangkok, Singapore, and Amsterdam
The new Yoshi's Island course
The trailer also confirms that Birdo will have multiple selectable color options.