So now we get children's card games, does Scorch season bring card games ON MOTORCYCLES?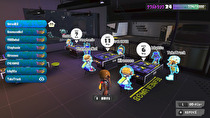 Details are rolling out for the "Fresh" season of Splatoon 3, which will include a new major functionality.
It has been announced that the promised update for online Tableturf card battles will be included with the update due around March 1. Lobbies appear to hold up to eight players, though the games are still 1v1.
New weapon variants and specials have also been revealed, including the "Super Chump" which creates limited-time jump points that can explode.