Just before 100 days of release.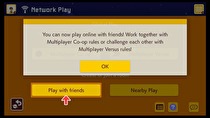 The long wait for friend matches in Super Mario Maker 2 is about to end.
An update is now live for the June 28 release that will add friend co-op and versus play to the Network mode. As of press time, the game is undergoing a maintenance to end at 11 p.m. Eastern time.
Nintendo World Report first reported that online friend multiplayer was not included in the launching game, which caused Nintendo to announce as a part of Treehouse Live at E3 that it would be added in an update.
The full patch notes also indicate support for the Nintendo Switch Online mobile app, LAN play, and button+touch screen support for handheld mode editing.