Want to play with friends? They better be at your house.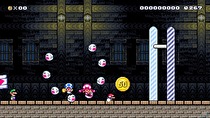 The addition of online multiplayer in Super Mario Maker 2 comes with a major caveat according to a Nintendo Treehouse representative at a press event last week: you can only play with random players online, whether you're seeking out co-op or competitive play. The only way to play multiplayer specifically with friends is through one system or local wireless play.
Nintendo's reasoning is that, with global leaderboards, the matchmaking for competitive play would be compromised if you could play with friends. That limitation also extends to co-op play as well despite those not being leaderboard driven.
Multiplayer with friends can be done locally on a single system (read our preview for more details on that) as well as through local wireless with up to four systems.
The only hope for this to change is via a future update. No plans for a way to play with those on your friends list was detailed, but Super Mario Maker on Wii U had a several post-launch updates.
Note: this post was updated to clarify that the "Nintendo representative" is a part of the Treehouse team.