Nintendo will let you play online with your friends at some point.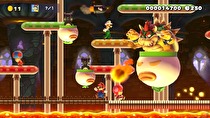 Super Mario Maker 2 will be updated post-launch to add support for online multiplayer with friends according to a Nintendo Treehouse representative at Nintendo's E3 2019 Treehouse Live stream.
The issue became known following our own reporting after a Mario Maker 2 press event in May. While Super Mario Maker 2 will feature competitive and co-op online multiplayer at launch, you will not be able to play with your friends online. You can play with your friends locally, but the online component will only be playable with random players initially.
Super Mario Maker 2 is due out June 28.
Mr. Tezuka has confirmed that the ability to play online multiplayer with friends is coming to #SuperMarioMaker2 in a future update. Stay tuned for more information to come. https://t.co/oxGuEcJ8Om pic.twitter.com/1AfK1vEGIe

— Nintendo of America (@NintendoAmerica) June 11, 2019