Some of the new moves in the Switch's Luigi's Mansion 3 were conceptualized working on a Wii U version of the franchise.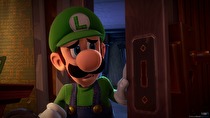 The Luigi's Mansion franchise was once planned for Nintendo's Wii U console. Kensuke Tanabe, Senior Officer for Nintendo's Entertainment Planning & Development Division, revealed this tidbit of behind-the-scenes info during an E3 2019 Tree House gameplay segment showcasing the upcoming Luigi's Mansion 3.
Asked about the origin of some of the game's new moves, Tanabe shared that "these moves actually were something that we came up with when we were working on the Wii U version and something that [Next Level Games] came up with."
It's unclear exactly how far the Luigi's Mansion franchise got on Wii U. It never released on that console, and instead the most recent entry in the franchise was 2013's Luigi's Mansion: Dark Moon on the 3DS. Next Level Games developed that game, so the timeline of when they worked on a Wii U Luigi's Mansion is unclear given that their next release was 2016's Metroid Prime: Federation Force, again on the 3DS.
Continuing to talk about the new moves, Tanabe explained that "when they made a prototype and let us use slam and burst it was just so satisfying when you played it." Whether this is referring to a Wii U prototype that never saw the light of day, or a much later Switch prototype for the current game, is unknown.
Luigi's Mansion 3 for the Nintendo Switch is scheduled to release later this year.