Up to 8 players local and online! That's a lot of Gooigi!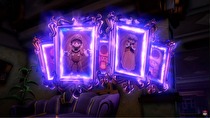 Luigi's Mansion 3 is expanding the franchise's gameplay with new abilities, multiplayer, and new modes, as revealed in today's Nintendo E3 Direct.
Now taking place in a haunted hotel, Luigi's companions, including Mario and Peach, are captured by the ghostly denizens and at one point appear to be trapped in paintings.
Fighting and capturing the ghosts to free them, Luigi is now equipped with the Poltergust G-00. This upgraded tool/weapon allows Luigi to use new abilities, like "Slam" which lets you slam ghosts into the ground while they're being suctioned to do extra damage, or use "Suction Shot", which can fire the Poltergust's plunger to attach to objects before pulling it back to try to tear away obstacles or ghost defenses. There's also an area of effect attack, "Burst", which lets you deal with groups of ghosts that team up on you.
Another major addition to the game is Gooigi, a goo-copy of Luigi who can walk through spikes or ooze between metal bars, but is completely undone by water. Players can jump between controlling Googi and Luigi, or make it a co-op effort.
Speaking of muyltiplayer, a new scarescraper mode gives players a tower of multiple rooms and floors to play through, and this mode can be tackled via local multiplayer or online. This mode features up to 8 player cooperative gameplay.
Luigi's Mansion is still slated for a 2019 release.