"Aww, that's sweet... I HATE SWEET! I NEED PHOTOS! PHOTOS OF BRITISH GAME SHOWS!"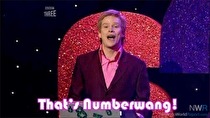 In a heavy month for the 4K twins, the Switch has held its fire for November and December.
According to the NPD Group's September survey, running from September 2 - October 6, the Switch was down compared to last September. The survey reported increases in dollar sales for the Xbox One and PlayStation 4, but "other consoles" were down which caused a net decrease in hardware dollar sales. The Super Nintendo Classic Mini did launch in the same period last year, for comparison.
In software, the top 20 was topped by Insomniac Games's Spider-Man for the PS4. Nintendo's debutant for the period, Super Mario Party, launched with two days left in the period, and even with eShop sales not counted finished in 9th place. Multiplatform titles ruled the roost, with Switch titles in 2nd (NBA 2K19) and 4th (FIFA 19) sandwiching technical Switch release Assassin's Creed Odyssey. The top 20 was rounded out with Mario Kart 8 (Deluxe) at 14th, the Crash Bandicoot N.Sane Trilogy in 17th, Super Mario Odyssey 18th, The Legend of Zelda: Breath of the Wild 19th and Minecraft 20th.
Other titles of interest in the period included Mega Man 11, which even with a $40 option for retail was the 5th best selling Switch title of the month. The Yo-Kai Watch Blasters games also landed in the top 10 of the 3DS chart.
Switch
Super Mario Party
Mario Kart 8 Deluxe
Super Mario Odyssey
The Legend of Zelda: Breath of the Wild
Mega Man 11 (Capcom)
Mario Tennis Aces
Splatoon 2
Donkey Kong Country: Tropical Freeze
Monster Hunter Generations Ultimate (Capcom)
Crash Bandicoot N.Sane Trilogy (Activision)
3DS
Pokémon Ultra Sun
Pokémon Ultra Moon
Mario Kart 7
Super Smash Bros
Minecraft (Microsoft)
Super Mario 3D Land
Yo-Kai Watch Blasters: Red Cat Corps
WarioWare Gold
Mario Party: The Top 100
Yo-Kai Watch Blasters: White Dog Squad