Still no idea if this is coming west, sadly.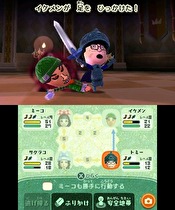 The Miitopia Nintendo Direct aired earlier today and provided a lot of detail about the upcoming Japanese-only RPG.
As expected, players can go on an adventure with friends to stop a Demon King who has stolen people's faces. The Miis can have different personalities and character classes, with nine of the game's 12 classes shown in the direct including a cat and an idol. Miis can be uploaded to the internet for use in game, and popular Miis will appear as non-player characters.
The game also allows for instant screenshots that can be uploaded using the 3DS's Image Share service, and all battles are recorded to easily find the perfect shop.
Miitopia releases in Japan on December 8.