And more information this weekend.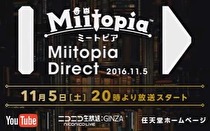 As promised, Miitopia will be launching in Japan before the end of the year.
The Mii-focused 3DS RPG will release on December 8, though a preview of the game is available for download on the Japanese eShop.
Although only a basic overview of the game was given in the Japan-focused Nintendo Direct for the Animal Crossing update, a full Miitopia Direct will air Saturday in Japan.
Our Daan Koopman recorded a look at the preview:
An older version of this story indicated the preview would release on Saturday - this has been corrected.