Along with news regarding Amiibos!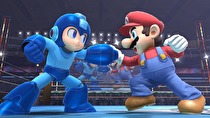 Nintendo revealed release dates for both Super Smash Bros. for Wii U as well as Captain Toad: Treasure Tracker, both still on track for a 2014 release. Also, more details regarding the Amiibo figures were revealed.
Super Smash Bros. for Wii U has been confirmed for November 21 in North America (December 6 everywhere else) for $59.99. Captain Toad: Treasure Tracker will be released on December 5 for a suggested retail price of $39.99.
The Amiibo figures were also detailed. Priced at $12.99, they will be released the same day as Smash Bros. for Wii U. The first wave of releases include Mario, Peach, Yoshi, Donkey Kong, Link, Fox, Samus, Wii Fit Trainer, Villager, Pikachu, Kirby and Marth. A second wave in December will contain Zelda, Diddy Kong, Luigi, Little Mac, Pit, and Captain Falcon.
For those wondering about the GameCube adapter and special controller for Smash Bros., both items, including the bundle featuring the game and both the adapter and controller will also launch on November 21 in North Amercia.