It's time to get back to normal, and that includes Smash Bros, system updates, and Listener Mail.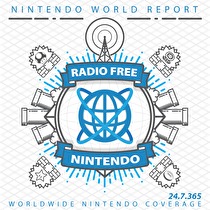 Subscribe via iTunes (Please rate and review, too!)
We're back in our own chairs and ready for the next chapter in Radio Free Nintendo! This hefty new episode contains everything you want -- New Business, Now Playing, a discussion of recent news items, and Listener Mail. It's all tied together with the brand new, RFN-exclusive theme song "Men of Leisure" that debuted last week. (See credits below for more info!)
Jonny leads off with Super Smash Bros. for 3DS, and he even got to enjoy some online matches with our friend TYP. The host also tries a short but imminently affordable eShop puzzle game, Blok Drop U. Next up is Guillaume, who downloaded the rarely played (but thoroughly mediocre) Castlevania: Dracula X from Super Nintendo, just released on Virtual Console. He also watched the animated movie Professor Layton and the Eternal Diva, last mentioned on RFN quite a while ago but now available to watch cheaply via Amazon. Lindy has a surprise -- he's been playing ZombiU! And he finally got his own copy of Shovel Knight, even discovering the game's "soul" in the process. James goes last with a final report on Persona 4 and additional thoughts on the gloriously wacky Tekken Tag Tournament 2.
Following the break, we catch up on several recent news stories, including fresh release dates for Captain Toad and Smash Bros. on Wii U, the likely reason for an early New 3DS launch in Australia and New Zealand, and system updates for both of Nintendo's platforms. Then it's time for our first batch of Listener Mail in some weeks. Topics include the GamePad's TV button, our triggers for a New 3DS upgrade, the state of Kingdom Hearts, and outrage over an excessively limited edition of Hyrule Warriors. As always, we would love to hear from you, so please keep sending those emails!
If you haven't already, be sure to visit and subscribe to the brand new NWR TV channel over on YouTube, where you'll find the complete archive of RFN 400 videos and much more to come. Also, Karl just revealed initial details and the tentative lineup for our 5th Annual NWR Live Telethon for Child's Play, so mark your calendar and start getting excited, because this event is always magical. Finally, be on the lookout for a special revival of the Powered Off digital magazine -- this bonus issue is entirely devoted to Radio Free Nintendo and is full of original content written by the podcast crew! (We'll add a link here as soon as it's available.)
This episode was edited by Jonathan Metts and James Jones -- Happy Thanksgiving, Gui! The "Men of Leisure" theme song was produced exclusively for Radio Free Nintendo by Perry Burkum. Hear more at Bluffs Custom Music.