Pokémon X and Y players only have a short period of time to get this one.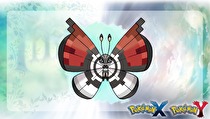 A Poké Ball Pattern Vivillon in now being given away to North American Pokémon X and Y players over the game's Mystery Gift Internet option. Those interested better hurry though, as the promotion will end on August 12.
This rare Vivillon variety is being given out to players in honor of the re-launch of the Pokémon Center online store.
The Poké Ball Pattern Vivillon cannot be obtained in the Pokémon games through any other means, making it exceptionally rare. The Poké Ball pattern marks the 20th variety of Vivillon to date. Last month, through a similar promotion, a Fancy Pattern Vivillon was sent out in a similar manor.
Another Pokémon distribution event, giving out Heracross and Pinsir, is also scheduled to take place later this month.