The last one for that Vivillon collection we know you have.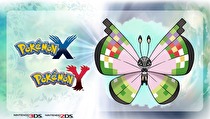 An exclusive Fancy Pattern Vivillon is now being distributed on the Nintendo Network until July 31 to commemorate Pokémon's 100,000,000 trades via the Global Trade Station.
The Fancy Pattern Vivillon will be exclusive to this event, so this particular pattern will never be found in the wild. To get their new Pokémon, players can log on to the Internet and receive it via Mystery Gift on Pokémon X or Y's main menu. Once received, players will then have to open their game file and find the delivery girl at any Pokémon Center.
This Pokémon comes in a Cherish Ball as a level 12 with a default move set including Gust, Light Screen, Struggle Bug and a new special move called Hold Hands, which is unique to this Vivillon. This new move is described as follows: "The user and an ally hold hands. This makes them very happy."
This special event Pokémon has been confirmed as available in all regions.