That's one shiny robot.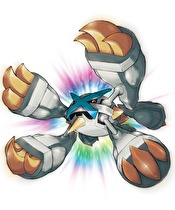 Players who purchase Pokémon Omega Ruby or Alpha Sapphire will have a window shortly after launch to receive Shiny Beldum as a gift.
The Shiny Beldum will be holding a Mega Stone, meaning it will be able to transform into a Shiny Mega Metagross once evolved to its third form. Exact dates that players will be able to claim their Shiny Beldum was not mentioned.
Pokémon Omega Ruby & Alpha Sapphire are scheduled to release on November 21, 2014.