Mega Man Xtreme is available now, with more to come each week.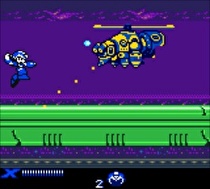 Release dates are now available for a selection of Mega Man titles coming to the 3DS Virtual Console this month.
Capcom calls this month Mega May, and it starts today with the eShop release of Mega Man Xtreme. Originally a Game Boy Color game, Xtreme was a 2001 spinoff of the SNES classic Mega Man X series.
Throughout the rest of the month, additional Mega Man games will hit the 3DS eShop on a weekly schedule. On May 8, Game Boy titles Mega Man II and Mega Man III will release simultaneously. The Game Boy versions of Mega Man IV and V hit on May 15 and 22 respectively. Mega May closes out on May 29 with the release of Mega Man Xtreme 2.
Mega Man: Dr. Wily's Revenge was one of the earliest third-party releases for 3DS Virtual Console, and several Mega Man NES titles have come out for the system. Fans have been waiting for the release of these more obscure Game Boy iterations of the series, however, as they've never been re-released in any form.
Capcom has been active on the Virtual Console front, recently announcing that Mega Man Network Battle 3 and other Game Boy Advance titles are in the works for Wii U.