Capcom confirms Blue & White versions, plans for additional titles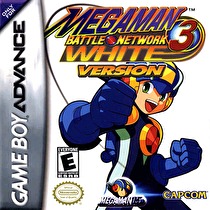 Mega Man Battle Network 3 Blue and White have been confirmed for release on the Wii U Virtual Console.
Capcom issued a statement to IGN revealing plans for these, and other unspecified Game Boy Advance games, to come to the Wii U. This news comes days after ratings by the Australian Classification Board raised suspicions about a potential release for the games.
"We are working on bringing this and other GBA titles to the North American Virtual Console," a Capcom spokesperson said. "We'll have more information about the lineup in the coming months. For Australia and Europe, we are still in discussions about the release of Virtual Console titles for those markets."
Last week's release of Super Mario Advance 3: Yoshi's Island capped the first month of availability for Game Boy Advance games on Wii U Virtual Console, and no further GBA titles had been officially announced for the service until now. Thus far only first-party content has been available, so it's a good sign for the future that at least one third-party publisher is now pledging support.
F-Zero GP Legend and Castlevania: Aria of Sorrow were also both rated by the ACB in March, though as of yet those titles have not been confirmed for release.