Fore! Make way for a healthy dose of digital releases.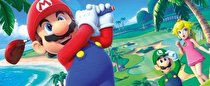 May's first drop of releases is crammed with a slew of this and that. Mario Golf: World Tour and Kirby: Triple Deluxe are the headliners. However's there's plenty of good smaller titles as well. Need a puzzle fix? Try Picross e4. Maybe you need something unique and off-the-wall; try Stick it to the Man! And yes, we have a solid classic for you too. Mega Man Xtreme, anyone?
Retail Downloads:
Kirby: Triple Deluxe - $34.99 (3DS, Available May 2)
Kirby, the suck-'em-up puff ball, is out to save the day again. Players can steal enemies' abilities and use the new Hypernova ability, which lets Kirby inhale like a Dyson on steroids. Aside from the story, two other modes are included, one being a Smash Bros.-esque four-player fighter.
Mario Golf: World Tour - $29.99 (3DS, Available May 2)
Finally after a decade, the world gets to play a new Mario Golf game. This new installment offers both single player and online multiplayer, including tournaments. With the main game containing three 18-hole courses, DLC is will also be available May 2 for an additional two 18-hole courses. More DLC will also release in the future, and you can even buy a season pass.
Wii U eShop:
Abyss - $1.99
It's 3024, and resources are scarce. That's where you come in. Control a robot called Nep2no and travel the dark to scrounge for the life-depending energy.
Stick it to the Man! - $9.99
Ray's got a nifty new power, mind-reading... Not to mention the world he exists in is made out of paper and stickers. Oh, the pink spaghetti arm sticking out of his brain lets him change the world, too. Help him solve puzzles and find out what the deal is in this cartoony title.
3DS eShop:
Azada - $5.99
Some poor chap named Titus got trapped in this book, Azada. He's got some major faith in you, since he used the last of his magic powers to transport you and figure out the dozens of puzzles contained in Azada to set him free.
Picross e4 - $5.99
More nonograms are never bad. It's the fourth entry in the Picross e series, and still kicking strong. e4's introducing 20x15 puzzles while still including Mega Picross and Micross modes.
Tiny Games - Knights & Dragons - $2.99
A five-piece mini-game set for kids. The included mini-games range from board to strategy, with even a math-based game tossed in.
Wii U Virtual Console:
Mach Rider - $4.99
Set just a mere century and change in the future, 2112, Earth has been invaded. Might as well race around on your motorcycle and search for survivors. If you're feeling creative, you can also design your own courses in this NES classic from 1985.
3DS Virtual Console:
Mega Man Xtreme - $4.99
Thankfully, Mega May is not just a typo of Mega Man. Starting May 1, a Mega Man game will release every Thursday on the 3DS eShop, and Mega Man Xtreme is the opener. It's a Mega Man X spin-off originally released on Game Boy Color in 2001.
Sales:
Tappingo
30% off, or $1.99, until May 15
Shin Megami Tensei IV
$29.99 from May 5 until 9:00 a.m. PT on May 12