Gotta patch 'em all!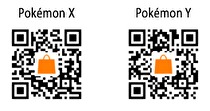 An update for Pokémon X and Y is now live on the eShop. The patch, version 1.1, should fix the glitch some players received when trying to save in Lumiose City and prevents an error when using the GTS.
The Lumiose City error occurred when some players saved in the city, causing the game to lock up. Save files affected by this glitch will also be fixed and playable again through this update. The GTS glitch caused the game to crash when some players used filters to find Pokémon using the Global Trade Service.
To download the patch, simply scan the corresponding QR code below or go to the eShop and click on the Pokémon X and Y icon. The update will be listed by the retail options of the game and will take up 229 blocks of memory on your SD card.