Wonder what teams the NWR staff are taking through Pokémon X and Y?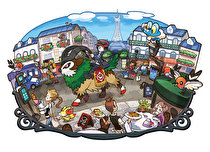 With every Pokémon game comes, usually, a brand new batch of Pokéfriends to play with and enjoy. Whether you're after an adorable Froakie or a world-killing and ass-kicking Hawlucha, every Pokéchoice is made for a Pokéreason. So, a bunch of Nintendo World Report staffers have offered up their rosters for the world to see, along with a brief explanation of why they chose them.
Let us know your team in the comments below!
---
Neal Ronaghan's Team
Bowie the Greninja
Iggy the Charizard
Hawkguy the Hawlucha
Clyde the Malamar
Honer the Aegislash
Janis the Florges
My team has remained relatively consistent since the third gym. Greninja and Charizard, named after my two cats, were always destined to figure into my end game. Charizard X is super awesome and Greninja is a dark frog, which is rad. No one can mess with a luchador hawk, and the Dark/Psychic fury of Malamar (who evolves from Inkay in a most ridiculous fashion) is hards to top. Aegislash and Florges round out my team because Ghost/Steel was better than I expected, and Florges' solid Fairy-type abilities take the spot of my usual Grass-type Pokémon.
---
Josh Max's Team
Crystal the Crobat
Shellshocker the Blastoise
Psyman the Alakazam
Sunny the Roserade
Lex the Delphox
Grace the Gardevoir
The thing is I go out of my way to get a Crobat and Alakazam in almost every game. I'm sad I don't have a Dragonite or a Scizor yet, but I'll catch them eventually. My point is every couple years I have to wander around fields and delve into caves in order to find an adorable sleeping psychic fox thing and a bat with no eyes. I then love them unconditionally and we become best friends forever. I picked Fenniken because I liked the "mage" aspect to his evolutions. I picked Squirtle because I always go with Squirtle. Sorry Charizard lovers. As for Roserade and Gardevoir, I caught them early and they've treated me well in the past. So why not?
---
Mike Sklens' Team
Pikachu
Tyrunt
Braixen
Hawlucha
Wartortle
Skiddo
I beat the second gym. I'm taking my time. I have only ever played Pokémon casually and I really like X/Y for simplifying things down. This team is in flux, but contains my usual suspects of a starter because they are awesome, a Grass type because I love health-drain moves, an Electric because screw flying Pokémon, a water one but this time only because it's a Kanto starter, Tyrunt for now because he is new and a dinosaur, and Hawlucha because I need a flyer and I like Fighting type and have you seen Hawlucha it looks awesome.
---
Zach Miller's Team
Lucario
Blaziken
Aegislash
Salamence
Blastoise
Raichu
Aurorus
Haxorus
It's tough because I'm really not committing, just cycling through the last five, so they're all roughly 10 levels behind my dedicated trio.
---
Justin Berube's Team
Greninja
Chesnaught
Delphox
Diggersby
Talonflame
Vivillon
I chose to have the three evolved starters, which is something I usually do when playing through Pokémon games these days. Diggersby is a great HM slave. Talonflame is there for fly and for Sky Battles. Vivillon is used for his Stun Spore move which is helpful when trying to capture new Pokémon.
---
Andrew Brown's Team
Malachite the Gardevoir
Aegis the Chesnaught
Alexandria the Blastoise
Wildfire the Talonflame
Rocket the Pikachu
Combusken
I also have one of those panda things as an HM slave to bring out when I'm exploring.
---
Alex Culafi's Team
Greninja (My starter, he's great)
Pyroar (female -- definitely the Stoutland of this generation. So plain, but so damn reliable)
Hawlucha (lucha libre wrestlers are the coolest things ever and this guy is a damn monster with Flying Press)
Aurorus (My dino boy and a flying type's worst nightmare)
Venusaur (The objectively superior RBY starter is now a destroyer of all things fairy. I keep a stone on him in case someone is partial to fairies)
Aerodactyl (In Mega form, his speed and attack generally has the ability to sweep 50% of most of the teams I fight against. He's my lead sweeper and my secret weapon)
---
Justin Baker's Team
Venasaur (You know, because he's the best Pokémon ever.)
Gengar (Used to be Doublade, but I wanted to see Gengar's Mega Evolution.)
Pikachu (Come on...It's Pikachu!)
Lucario (Sometimes all you need to win is a nice punch to the face.)
Staraptor (Flying me where I need to go.)
Lapras (Surfs up!)
I still use the old school method of "Oh, that Pokémon looks cool, I guess I'll put it on my team," instead of actually planning out any sort of winning strategy. And yeah, I know I have more than one of the Pokémon that are just handed to you. Leave me alone; I'm lazy.
---
Becky Hollada's Team
Capt. Kid the Vaporeon (If only I could put a pirate hat on it.)
Beltaine the Bellossom (First name that popped into my head after Flowerhead. I think it was the better choice.)
Balrog the Talonflame (I think he became sufficiently cool for this name.)
Masamune the Doublade (Way too many JRPGs at work here.)
Sparky the PIkachu (I have had a Pikachu named Sparky since Pokemon Blue...)
Delphox (The only Pokemon without a nickname because I made a bet with my best friend that I could, for once, go without nicknames. I clearly lost.)
I like to keep a team balanced with types, but I also have a habit of choosing my team based on what I think looks cool or (girl alert) adorable. Other than that, I just wing it. EV training is for people who don't have Hometown Story to play.
---
Kim Keller's Team
Delphox (pretty solid)
Doublade (ghost swords! slash slash!)
Pidgeot (always my flying Pokémon of choice)
Venusaur (never chose a grass starter before)
Haxorus (his false swipe is catching everything for me right now)
Gyarados (RAWR!!!)
I don't go for crazy strategy, I just like having fun with my team and crushing the dreams of trainers across Kalos. I've been switching it up among like 12 Pokémon, but right now, that's my team.
---
James Dawson's Team
Rodan the Aerodactyl (I doubt a better name for an Aerodactyl exists. Rodan was always one of my favorite Toho monsters.)
Gyaos the Noivern (Like Rodan, Gyaos is also a reoccuring character in old monster movies, though he fights Gamera instead of Godzilla.)
Doublas the Barbaracle (Barbaracle may have three heads, but he instantly reminded me of the iconic, two-headed mechanical beast, Doublas, from Mazinger Z. He probably has my favorite design of all the new Pokémon.)
Gorgon the Pyroar (No, I didn't name my Pyroar after the mythical beast Gorgon, but the far cooler Archduke Gorgon from Great Mazinger. Go ahead, Google him. Dude has a saber-toothed tiger for a body.)
I'm still working on my team; I'm EV training and breeding for natures (all of my friends are doing it, so why not). I currently have four EV trained Pokémon on my team, all of whom are level 50 and above. I'm trying to keep a theme of naming them after old kaiju and creatures from anime and tokusatsu series.